Welcome to Day 1 of Created By Cori's Favorite Quote Blog Hop! In this hop, you will see projects featuring favorite quotes from many talented crafty ladies! We hope you enjoy our blog hop today!
If you have just hopped onto the tour, please start at Cori's blog located here:
Created by Cori
. If you came from
Scrappin' My Stress Away
then you are in the right place!
Today's blog hop sponsor is
Scraptastical Kreations
. They are offering a $25 gift card to their online shop!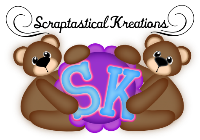 Simply leave a comment to be entered to win! You can have a second chance to win by leaving a message, letting us know you follow
Scraptasical Creations on Facebook
!
So one of my absolute favorite quotes come from Robert Frost's poem "The Road Not Taken". I can't even express how much this poem speaks to me. My favorite quote is:
"Two roads diverged in a wood, and I,
I took the one less traveled by,
And that has made all the difference."
As I was deciding how to incorporate this quote into my project, I realized that I just had to include the ENTIRE poem into my layout. And then I decided to frame the entire layout so that I can hang this in my hallway.
Here's my project:
I just loved the way it turned out! I already have it in a frame and just need to find the right spot on the wall.
I used our new
Florentine
Paper pack and a stamp set called
Family Love
(D1506) to stamp the border around the entire layout. I then used our exclusive
Art Philosophy Cricut Cartridge
to cut the background image found on p. 66, E6, shift, font layer < Flower2 >. I used the "Fit to Page" button so the image cut at 11". I also cut the trees found on p. 53, D3, shift, layer < Tree3 > at 4", 5", and 6".
Your next stop on the Favorite Quote Blog Hop is Ryan's blog:
Piece and Paper
. Here is a complete list of the blog hop in case you get lost along the way:
1. Cori-
Created by Cori
2. Ann Marie L. -
Creative Ramblings
3. Lori A -
Scrappin' My Stress Away
YOU CAME FROM HERE
4. Lucy -
Love 2 Create It All
YOU ARE HERE
5. Ryan -
Piece and Paper
YOUR NEXT STOP
6. Sabrina -
Sabrina's Bella Beautiful Pages
7. Lluvia -
Sweet Bird Memories
8. Jamie -
My Amusing Life
9. Miranda -
Nana's Scrap Spot
10. Eva -
Eva's Scraps N' Cards
11. Jackie -
Jack Rabbit Scrappin'
Thank you for hopping along, we hope you have found lots of inspiration from our Favorite Quotes Blog Hop. Please come back tomorrow for day 2 and see even more great projects!