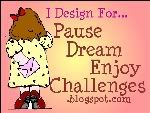 Good Morning! Nope you didn't wake up to a post about Fiddler on the Roof! I was just trying to be cute :)
Welcome to our Friday challenges at Pause Dream Enjoy Challenges

where we have a new question or theme posted every Friday! That's 52 projects in 2012 if you do them all! We thought it would be a neat idea to make all 52 projects part of a mini album... a new page every week based on the question or theme.
But you interpret this challenge any way you like. All forms of crafting are welcome!
This week we are on Challenge #27 which is to create ANY type of project with a SUNSET theme - either using colors of a sunset or create a sunset on your project. (Thus the title of my post!)
This week I created a cute Sunset card with a Disney theme:
I actually used three different cartridges to make this card: Art Philosophy, Create-A-Critter and Mickey and Friends. The paper came from our Stella paper pack.
I used Sunny Yellow cardstock to cut the inside circle of the sun using the AP cartridge, page 21, A1, < Circle1 > cut at 4". The rays of the sun were made using the Create-A-Critter cartridge on page 52, C10, < Sun > cut at 6" using Honey textured cardstock. I edged both pieces of the sun with Honey ink and then I used Yellow Stickles to outline each piece to give it a little "pop".
Mickey and Minnie can be found in the Mickey and Friends cartridge and were cut at 3" using Black and Indian Corn Blue cardstock. Mickey can be found on page 29, A2, shadow: base/icon, < Mickey1 > and Minnie can be found on page 39,, B2, shadow: base/icon, < Minnie1 >.
Finally, the sentiment "Wish you were here!" came from the Going Places Cricut cartridge. It was on page 93, B2, shift, < Wishhere > cut at 1 1/2".
Supplies Used:
Art Philosophy Cricut cartridge (Z1686)
Mickey and Friends Cricut cartridge
Create-a-Critter cartridge
Stella Paper Packet (X7147B)
Sunny Yellow cardstock
Honey Textured cardstock
Honey Exclusive Inks Stamp Pad (Z2162)
Yellow Stickles
To purchase any of these supplies, just click on the links above or go to my website here. If you have any questions about my project or the products, you can also email me here.
Enter before the end of the next week to be in the drawing for that week's prize, but all challenges are open until the end of the year giving everyone plenty of time to Jump In or Get Started. ENJOY!!
Thanks so much for stopping by! Hope you liked my project and check out the other Design Team's projects. Can't wait to see what you create too!
Have a crafty day!
Lucy
Remember, our challenges are open all year long! They don't close until December 31, 2012. You can go back and play along, catch up, or jump in at any time. To be eligible for prizes, you must enter by the prize deadline.