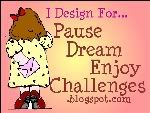 Welcome to our Friday challenges at Pause Dream Enjoy Challenges where we have a new question or theme posted every Friday! That's 52 projects in 2012 if you do them all! We thought it would be a neat idea to make all 52 projects part of a mini album... a new page every week based on the question or theme.
But you interpret this challenge any way you like. All forms of crafting are welcome!
This week we are on Challenge #30 which is to
create any type of project featuring sports or any kind of hobby.
I created a card that I will be giving my husband:
Before I give you my recipe for this card, let me tell you why this post is titled "You Met How??" and what that has to do with my card. The two figures in the card represent my husband and myself. We first met many years ago in an Aikido class. Aikido is a Japanese martial art. We started training together and then teaching the children's class together and well ... we fell in love and got married. Whenever people ask us how we met, they seem shocked. I guess they picture us throwing each other around and think that's a little unusual. Well ... we did throw each around ... a LOT ... on the mat! We still do to this day! We now own our own Aikido dojo (martial arts school) and teach the children's class together. So that's the story of "how we met."
Now for my card instructions ... the real reason you are here :)
I used a number of Cricut cartridges for this card: Paper Doll Dress Up, Everyday Paper Dolls,
Art Philosophy
, and ... wait for it ... the new ARTISTE!
The hearts were made using the Art Philosophy cartridge. They can be found on page 26, A6, < Heart2 > cut at 1/4", 1/2", and 3/4" out of Tulip cardstock.
The sentiment came from our new Artiste cricut cartridge. Now this is only one VERY simple image out of the 700 that are on this cartridge (cupcake wrappers, 3D boxes, flowers, rosettes, party decorations, cards, tags, banners, etc., etc., . The reason I used the image is that it coordinates with the stamp set I used for the sentiment: Casual Expressions (D1525). The oval can be found on page 36, A6, Accent 2 cut at 1 /4". I used our
Stella
paper pack to make this card.
The figures were cut using Everyday Paper Dolls and Paper Doll Dress Up. The martial arts uniform and belt came from Everyday Paper Dolls:
Gi top: page 39, B2, < Robe > cut at 2 1/2"
Gi bottoms: page 40, B3, < Outdor > cut at 2 1/2"
Belt: page 39, B2, shift < Robe-s > cut at 2 1/2"
The figures were cut using Paper Doll Dress Up:
Figure: page 29, A1 < Body > cut at 2 1/2" and blackout < Body > cut at 2 1/2".
Girl Hair: page 57, C9, headwear < Suprgrl > cut at 2 1/2"
Boy Hair: page 48, B10, headwear < Knight > cut at 2 1/2"
Submit your project before Thursday, August 2nd MIDNIGHT EST to be entered for the current prize. Please comment after linking. We'd love you to FOLLOW us!
I hope you enjoyed my DT project this week -- can't wait to read your comments.
Have a wonderfully crafty day!
Lucy