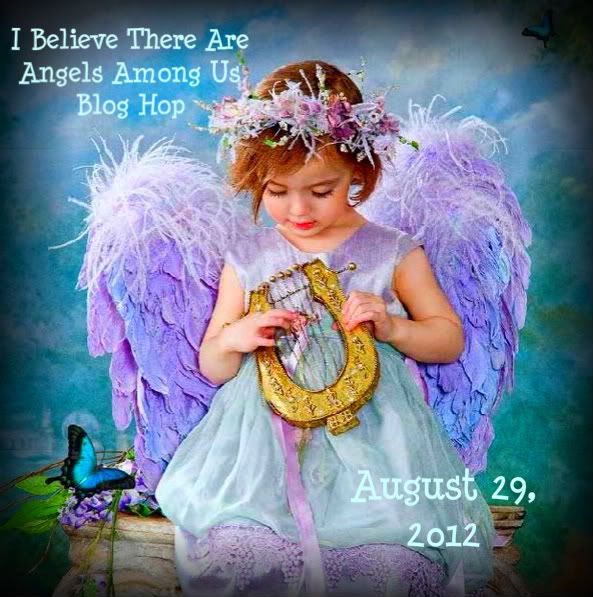 Oh I believe there are angels among us
Sent down to us from somewhere up above.
They come to you and me in our darkest hours.
To show us how to live to teach us how to give.
To guide us with the light of love.
When life held troubled times, and had me down on my knees.
There's always been someone there to come along and comfort me.
A kind word from a stranger, to lend a helping hand.
A phone call from a friend, just to say I understand.
Today's hop may be the story of our own Guardian Angel who watches over us, the beauty of angels, or just expressing kind words. The craft blogging world is phenomenal as sharing loving thoughts and caring towards others.
We have fabulous sponsors today:
I am offering, a stamp set called "Angelic Blessings" to one lucky winner that becomes a follower of my blog. Here's what the stamp set looks like:
Daisy Collins of I Love Sketches by Tsunami Rose, also has a Zibbet store, where she designs beautiful papers - has graciously offered to custom design a paper for one very very lucky winner that becomes a follower of her blog!
If you were visiting me today, I appreciate it, but would want you to start at the beginning of the hop not as to miss a single angel with Lynne at Her Craftiness. If you have arrived from Lisa's blog at Scrapping with Lisa - Handmade With Love, then you are in the right flight!
I made a set of "angel" cards:
I cut the card shape using my awesome Artiste Cricut cartridge. The card shape is on page 32, A2, Card, < 2 > cut at 5". I also cut out a number of squares from page 48, B8, Shift, Card, < I > at 1 1/4", 1 1/2", 1 3/4", and 4 3/4". I used our paper pack called La Belle Vie. I used a sponge dauber to ink the squares with Barn Red ink - a coordinating color for this paper pack
Angel Sent Stamp Set (A1099)
Your next stop along the way today is Tami of Tambo's Creations. Thank you - appreciate you stopping by today and hope you stop again!
I have the complete line-up of the angels in the blog hop just in case you get off the chosen path!!!
I hope you enjoyed my project -- love reading your comments!
Have a wonderfully crafty day!