If you looking for the "UnBOOlievable" Blog Hop, please click here.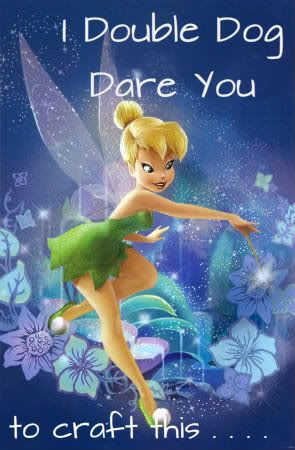 Welcome to I Double Dog Dare You. Each month there is a Double Dog Dare to create a project. This month, is no exception and everyone has been asked to create a Halloween creation that not only depicts Halloween but is a 3-D object.... do you dare to even create???? Let's see how Halloween speaks in a 3-D version ...
The hop begins with Lynne at Her Craftiness. If you arrived at my blog by accident, don't get me wrong as I love you visiting me but I wouldn't want you to miss one single stop along the way!!!!!
For my project today, I made some cute Halloween baskets to sit on our table as decorations. Here's a p

icture:
Aren't they cute! I found those little

glitter pumpkins at Michael's and thought they would be perfect for the baskets!
I cut the baskets using our Moonlight paper and the Artiste Cricut cartridge. You can find the baskets on page 73, E3, 3D Obj

ect, < Spring > cut at 2". The handles were attached by using a couple of metal brads. Aren't they cute???
SUPPLI

ES USED
Art
iste C
ricut cartridge (Z1790)
Moonlight paper pac

k
(X7161B)
Brads
-
Metal Assortment (Z1

366)
Here's the complete line-up just in case you would happen to get frightened and need to close your eyes.......
Thanks so much for stopping by and leav

ing a comment.
Have a wonderfully crafty day!
Lucy
Your next stop along the way is !!!! Have a great Halloween and remember the most important words "Trick or Treat"