Isn't October wonderful! Crisp apples picked fresh from the tree, warm apple cider to warm your tummy on a frosty night, leaves of gold, red, brown fluttering to the ground. October is a wonderful time of year and this hop is a celebration of October and all the colors, smells, sights and sounds it has to offer. Hop along with our Krazy Crafting Crew as they show you their take on October and what it is for them!
If you happen to stumble upon this hop you can begin hopping at our host blog for this month: Jearise of Lorby's World. She has a special giveaway for you on her blog. If you came from (the person before you) blog you are on the right track.
We also have a special sponser by Scrapbook Stamp Society.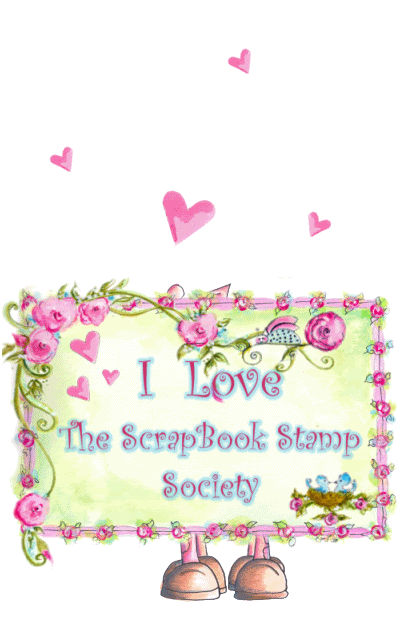 They would love to reward one special blog visitor with a prize from their store. To be qualified for their drawing, please comment on all participating blogs and let them know you have.
You can receive extra entries for following them on Facebook at (Scrapbook Stamp Society FB Group) and for commenting on the Scrapbook Stamp Society blog (Scrapbook Stamp Society).
Now let's begin our hop!
When I started to think about what October meant to me, I couldn't stop thinking about pumpkins! For me, October is all about Halloween and pumpkins and baking. So, I decided to create a recipe card with one of our favorite recipes - Pumpkin Bread!
I used our Moonlight paper pack to make this 9" x 9" recipe "card". The recipe itself is layered on top of a Smokey Plum cardstock cut from Art Philosophy - page 33, B3, < Square2 > cut at 4 3/4". The black cat in the left hand corner was cut from our Artiste Cricut cartridge. It's on page 76, E6, Shift, Card, < Spooky > cut at 1 1/2". The "face" on the pumpkin also came from the Artiste on page 77, E7, Accent3, < Hallween > cut at 1".
The pumpkin is a stamped image that came from our Abundance stamp set and was stamped with Smokey Plum ink and then colored in with Olive and Autumn Terracotta markers.
The lettering came from our Glamour Glitter Alphabet.
This is a great recipe - you should try making it! After making this one page, I think I'm going to make myself a Holiday recipe book filled with 6" x 6" "recipe" cards.
SUPPLIES USED
Artiste Cricut cartridge (Z1790)
Art Philosophy Cricut cartridge (Z1686)
Moonlight paper pack (Z7161B)
Abundance stamp set (D1519)
Glamour Glitter Alphabet (Z1775)
Smokey Plum Exclusive Inks Stamp Pad (Z2147)
Autumn Terracotta Exclusive Inks Marker (Z2427)
Olive Exclusive Inks Marker (Z2425)
3D Foam Tape (Z1151)
Thank you for stopping by today and please continue on to Melissa's blog at Pink Polka Dot Scrapping.
Thanks so much for stopping by and leaving a comment.
Have a wonderfully crafty day!
Lucy