If you are looking for my Design Team project for Pause Dream Enjoy, please click here.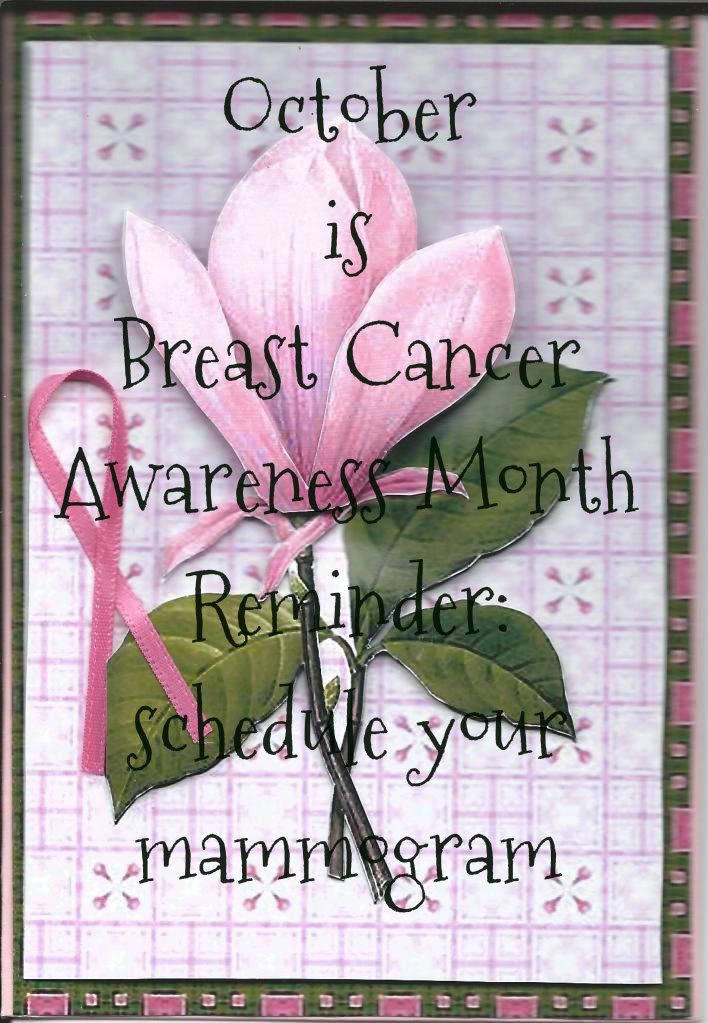 Welcome to our October is Breast Cancer Awareness Month Blog hop. Today's hop is dedicated to those who are breast cancer survivors, mother, sister, aunt, or neighbor who have breast cancer and to those who lost the battle.
Reminder that please, schedule your mammogram. Self-examination doesn't always detect the nodules.
We have some great blog candy for this hop:
Anita of Anita and Bugs has graciously offered in remembrance a $20 Gift Card to Michael's to one lucky winner.
Lynne of Her Craftiness will make one lucky winner a pink and white bracelet with a pink ribbon. For one other lucky winner, Lynne will make a pink cross that looks like it has been crocheted but made with her embroidery machine with a breast cancer awareness ribbon in the center.
We have a beautiful group of ladies who will show-case a special project to a personal crusade for Lynne, who is a survivor!
You should have arrived from Heather's blog - Heather's Coffee Break.
For my project today, I have made a couple of cards:
I cut the card shape using the Artiste Cricut cartridge. You can find it on page 36, A6, Card, < 6 > cut at 4 3/4". I used Cotton Candy ink to stamp the images. The stamp set I used is called Always Remember which is a retired stamp set.
SUPPLIES USED
Artist Cricut cartridge (Z1790)
Cotton Candy Exclusive Inks Stamp Pad (Z2193)
Always Remember stamp set (A1095)
3D Foam Tape (Z1151)
Your next stop along the way is Esther of For the Joy of Creating.
Here is the complete line-up for a pink blog hop today in case you get lost along the way:
Thank you so much for stopping by. Don't forget to leave a comment. Good luck on our blog giveaway.
Have a wonderfully crafty day!
Lucy